Botanica (Botanic)
» 11 February – 3 March 2006
Galleria Arturarte Contemporanea
Viterbo/Rome, Italy
Curated by Stefano Elena, text by Stefano Elena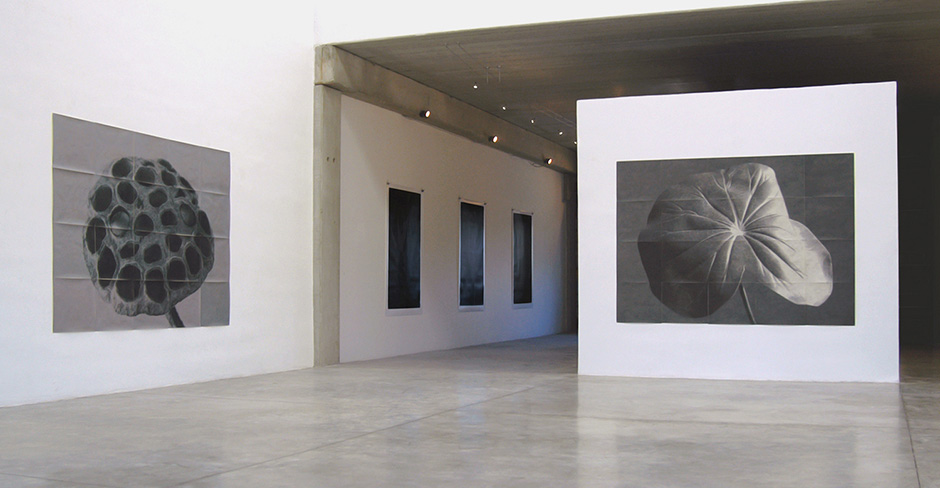 Botanica
Panoramic view at Galleria Arturarte Contemporanea
2006
The number of beats necessary is at least 140. The beat, the measure that breaks down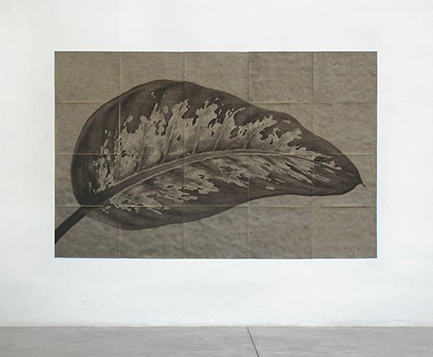 musical timing, has to be driven. Just like heartbeat. As if the heart pulsated to the point of seeming that it had stopped. Or as if the beat became that momentary suspension that the dictionary cites amongst the other meanings. So now we can observe this new methodical project of Sergio Zavattieri, who creates feeling out of behaviour and gives motion a rhyme and reason for being. He penetrates and enquires whilst remaining clear, he captures, removes, enlarges, embellishes and changes shapes into a motionless pose, first plucked out of the image, then drawn back in and perfected, proof that the technique releases a certain magic. 
As an agitated yet patient collector, an obsessive artisan with gritted teeth, dependent on stylistic and not moral perfectionism, Zavattieri (from now on referred to as just 'Sergio Z.') moulds, amplifies, manipulates and fixes reality to render it recordable and invariable. This is the fruit of digital guile that documents unseen beauty, that which is hidden/absent, is treated in the dark room and is unconsciously seen by the eye. The imperceptible details now appear, bordering on an optical illusion that transforms their appearance into an alternative one and that photographically shapes a chosen gem that has been deconstructed, translated and developed via a multi-stage process that captures and redefines. Whether capturing bodies, flesh, animals or suppers, Sergio Z.'s mechanical eye, cold and meticulous like a pre-programmed sensor, elaborates and restores, deflecting the deceived view of those who observe simply to unveil. The photographic studies dissect  themselves. The emotive distance and the optical convergence (starting with the title,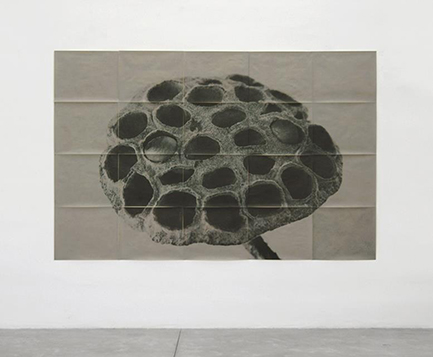 "Botanica", which rather than being an explanation of the exhibition, is more of a subtitle) seal and examine the objects as if under a microscope and "devour the air of reality" by nullifying the reassuring elements of time & space which always help to contextualise man in hissurrounding environment. Reality is governed by environment and everything that comes into its possession is distorted by behaviour and inclination. Using a fusion which blends talent and toil, Sergio Z. transfers the revivable from its natural origin to where he wants it, where it is of benefit. Then there are the flowers, secondary elements that epitomise his skill and demonstrate his method (Sergio Z. states that "… in every work that I do, the subject is not actually the fundamental aspect"). The "artificial construction of life" is a recurring theme in the works of the homo faber Sergio Z., a scientific exploiter of existence and its distant interpreter. 
These technoflowers, synthetic flora body parts that fill the whole shot, are sterile and motionless as if immersed in the siliconic oil of Marc Quinn's 'Garden' where, in the emptiness of a silence which pervades, the plants are restrained and suspended in a coma, destined to decompose as soon as the thorn is removed. In the meantime however, we can observe beauty. 
During the wait we will have exploited the perfection that those like us, those condemned to die, never give up hoping for. We cannot do any more, not by observing I mean. In this paralysing wait that remains silent and reveals itself to be indifferent, we cannot look for, and even less find, something that belongs to just us. PS. The above acknowledges the influence of "history" (Benjamin, Blossfeldt), Mircea Eliade, Limbo, the "Collezionista" by John Fowles and Sergio Z.